Words from Heaven for These Times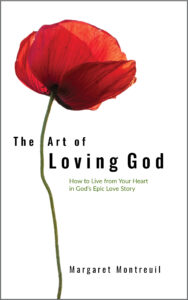 Never before has this Scripture meant more to me: "And we know that in all things God works for the good of those who love Him, who have been called according to His purpose" (Romans 8:28 NIV).
About twenty years ago God gave me the title for a book and I was given prophetic words by others that I'd write a book for the Last Days. Well, here we are. This is, I believe, that certain book. Coincidentally, it just happens to be ready to be published at this time. I feel this is Heaven's gift. I am His word-artist, just doing my thing, for such a time as this. "Do not be afraid, I am with you," says the Lord.
GOD IS ON THE THRONE.  HE IS IN OUR HEARTS. HE IS EVERYWHERE. HE LOVES YOU PARTICULARLY. WE'RE IN A CRISIS IN THE STORY RIGHT NOW. ALL STORIES HAVE THEM. EVERYTHING WILL BE OKAY — HE'S WITH US!
https://www.amazon.com/s?k=margaret+montreuil&ref=nb_sb_noss