God with Us
Although a stand-alone book, God with Us follows the same 45 titled chapters and themes as the biblical-novel, God in Sandals. This book is an engaging, contemplative non-fiction that helps the reader to see Jesus and meditate upon His life.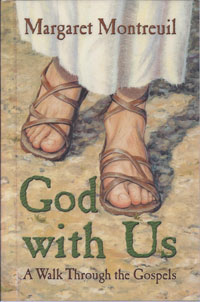 Contemplative View sections contain reflective, inspirational prose and imaginative narratives to deepen understanding surrounding the mysteries and realities about Jesus and His love. Often this section is a story from an "eyewitness" who describes Jesus in action.
Wonder Just a Little invites the reader to reflect through questions and thought-provoking ideas meant to awaken wonder.
What Do You See?  gently guides the reader to imaginatively enter into a Gospel event to see and hear Jesus and "encounter" Him through meditative seeing and prayer.
Journal Exercises facilitate the reader to reflect and listening to God with a journal.
Buy Now