God in Sandals
God in Sandals is a novel about the most famous and influential person in history. Because Jesus called Himself "the Son of Man," and "the Son of God," people couldn't help but wonder what He meant. In fact, people still wonder about Him today.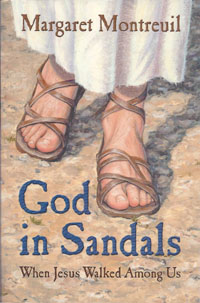 This story plunges headlong into that amazing mystery of who Jesus was and is. What did God incarnate experience and feel when He became one of us? Why did people so strongly love or hate Him? And why do people still seek to know Him today?
This historical biography is an intimate portrayal of the human side of Jesus. By sharing in the experiences of those who knew Him, we, too, can see and hear Him and better understand the meaning of His coming.
Buy Now