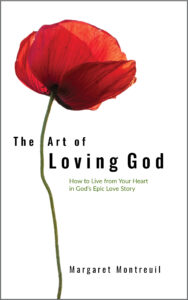 Never before has this Scripture meant more to me: "And we know that in all things God works for the good of those who love Him, who have been called according to His purpose" (Romans 8:28 NIV).
About twenty years ago God gave me the title for a book and I was given prophetic words by others that I'd write a book for the Last Days. Well, here we are. This is, I believe, that certain book. Coincidentally, it just happens to be ready to be published at this time. I feel this is Heaven's gift. I am His word-artist, just doing my thing, for such a time as this. "Do not be afraid, I am with you," says the Lord.
GOD IS ON THE THRONE.  HE IS IN OUR HEARTS. HE IS EVERYWHERE. HE LOVES YOU PARTICULARLY. WE'RE IN A CRISIS IN THE STORY RIGHT NOW. ALL STORIES HAVE THEM. EVERYTHING WILL BE OKAY — HE'S WITH US!
https://www.amazon.com/s?k=margaret+montreuil&ref=nb_sb_noss
Read More

Hope deferred makes the heart sick,
but a longing fulfilled is a tree of life. Proverbs 13:12 NIV
How is it that our days can be so filled with joy and happiness, zest for life, and other days feel like all is desperately wrong and an emotional state of sorrow pervades everything?
I had a talk with my heart today. Instead of longing for an impossible situation to be miraculously fixed, I told myself to desire God's presence instead. Not His help. I'll let you know how the tree of life's fruit tastes soon . . . already I'm feeling hopeful.
Read More